Login
If you already have an account with us, please login to continue.
Register
Welcome to Noordzeemeermin! Create an account to shop easily, claim promotions, go through the payment process faster, save multiple addresses, view your order history and much more.
Create an account
Service - Info about buying a mermaid fin & swimming - The webshop for mermaids
Hulp nodig?
Are you looking for more information about buying a mermaid tail or fin? View the frequently asked questions and discover more about:
Mermaid swimming
Determining the suitable size for your mermaid tail or mono fin
More about the use of mermaid tails
How to put on (get in) a mermaid fin and tail
Maintenance of your tail and fin
Other useful facts
Information about shipping and Returns
Company details
NoordZeemeermin
Zeemeerminstaarten Webshop

Adresgegevens
Westenburgstraat 48
2275 XS
Voorburg

KVK
56190344
BTW nr
NL001391927B86

Ma-Vr van 09.00 tot 20.00
Za: 09.00 tot 18.00
Zon: 11.00 tot 17.00
Frequently asked questions
1. Size
1.1 Which size is suitable?
We recommend that you measure the waist and length from navel to ankle and then view our size chart here. If you have the tail in the house and it turns out not to be the right size then you can of course exchange it.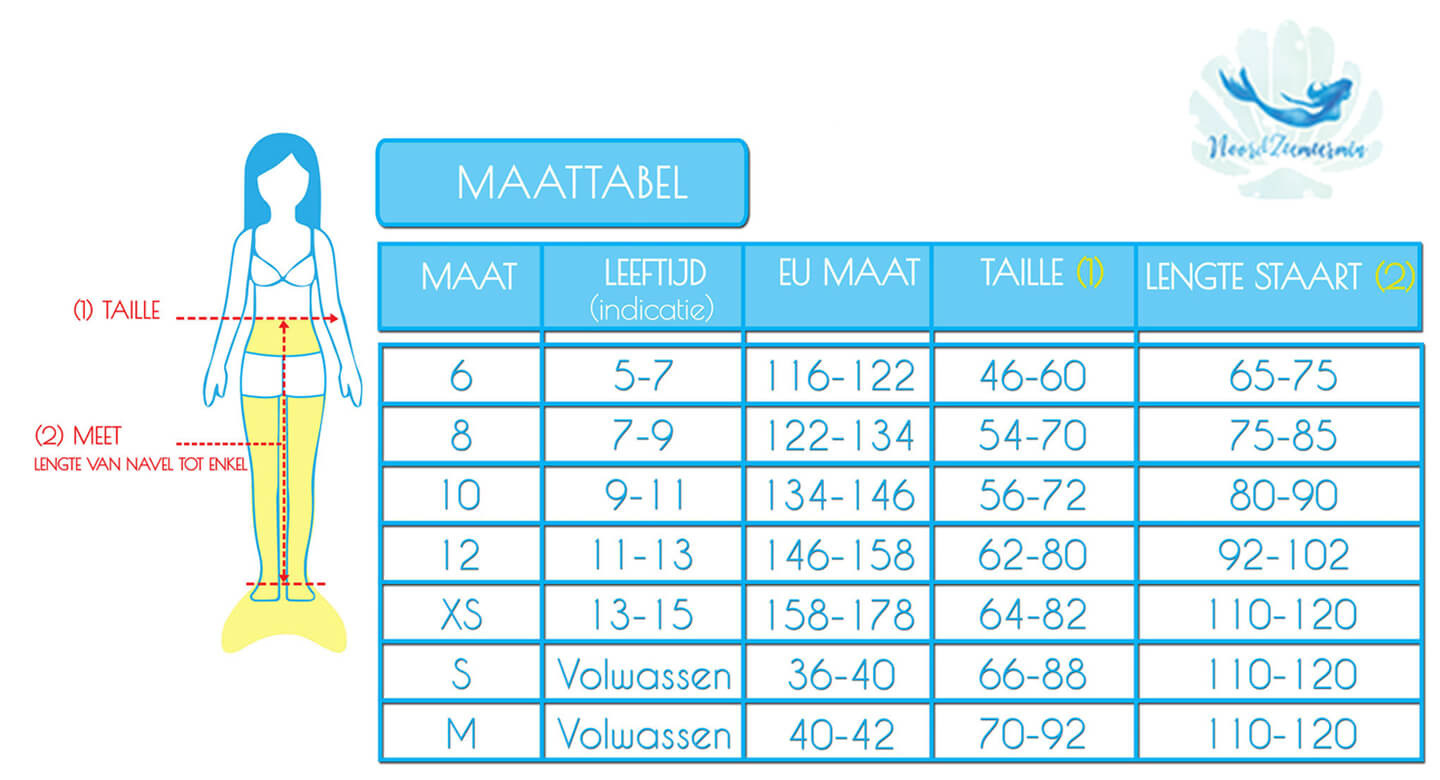 1.2 What size monofin do I need?
The mermaid tails in sizes 8, 10 and 12 can only be used in combination with the small monofin. This is suitable for shoe sizes 31 to 37.
The mermaid tails in size XS and S can only be used in combination with a large monofin. Suitable for shoe sizes 37 to 42.
The large monofin does not fit the tail sizes 8, 10 and 12. And the small monofin is too small for the tail in sizes XS and S.
Pay attention when ordering a complete set that you select the right monofin.
2. How do i use mermaid tail correctly
2.1 When can you start swimming with the mermaid tail?
We recommend swimming with a mermaid tail only when the child is in possession of swimming certificate A & B.
The recommended age is from 7 years. When younger than 7 years they usually lack the necessary strength to get the mermaid's stroke right.
Swimming with the mermaid's tail should be supervised by an adult at all times.
2.2 How do you put on the tail?
You sit down at the edge of the pool, then you first pull the tail over your legs, now your feet stick out at the bottom. Finally, you put on the fin.
It may be difficult to get your feet in the fin the first few times. The fin is made in such a way that it closes well around the ankles, so that it stays in place during swimming. After pulling on and off a couple of times this will be easier.
2.3 Why is the tail open at the bottom?
We have designed our mermaid tails to be open at the bottom, this makes it easy to pull the monofin on the inside of the mermaid tail and pull it out.
The monofin can then be easily removed while swimming should this be necessary. We have discovered that a mermaid tail that is open at the bottom is the best choice for safety and maximum flexibility.
2.4 How to treat your mermaid tail after swimming
By rubbing the tail against rough or hard surfaces, you can create traces of use (e.g. pilling, sanding spots, hooks and holes). Our tails have extra reinforcement at the tips and an extra shiny layer over the entire tail as standard. This gives your North Mermaid tail extra protection against wear and tear.
After swimming, rinse the tail and fin thoroughly with clean (tap) water to remove residues of chlorine, salt and/or sand. Leave to dry lying down.
Do not store the tail and fin until they are completely dry. If you wish to wash the tail, do this with a hand wash. In the washing machine the Safety Covers on the tail tips can be released. 
3. Shipping
3.1 What are the shipping costs?
The standard shipping costs for the Netherlands are € 4,95 and from € 50,- free. The shipping costs to Belgium and Germany are € 7,-.
As soon as NoordZeemeermin has sent your package you will receive an automatically generated shipping confirmation at the end of the day. It contains a tracking number, with which you can track your parcel by clicking on the code.
3.2 When can I expect my order?
We know our little mermaids a little and know how impatient they can be while waiting for their tail, that's why we do our very best to deliver the order to your home as soon as possible.
If you order on working days, we will ship the order the next working day at the latest.
4. Exchanges & Returns
4.1 Can I exchange my order?
Would you like to trade your tail for another size or a different colour? That's no problem! Register your return by sending an email to [email protected] and mention your name, your order number and the product. Then you can send the return (at your own expense) back to the postal address below: 
NoordZeemeermin
Saturnstraat 60 - unit 17
2516 AH The Hague 
PLEASE NOTE: Do not forget to mention your order number, product(s) and reason for return when registering.
 
- If the product is worn or damaged, we cannot take it back.
- The costs of return shipment are for the sender
- Once we have received the return, we will refund the money to your account within 7 days.
4.2 Can I return my order?
You have the right to cancel your order up to 14 days after receipt without giving any reason. After cancellation you have another 14 days to return your product. You will then be credited with the full order amount including shipping costs. Only the costs of returning the product from your home to North Sea Mermaid are for your own account. These costs are approximately 6.95 per parcel, for exact rates please consult your carrier's website.
If you exercise your right of withdrawal, the product will be returned to the NoordZeemeermin with all delivered accessories and - if reasonably possible - in its original condition and packaging. To exercise this right, please contact us at [email protected] We will then refund the order amount due within 14 days of registering your return, provided that the product has already been returned in good order.
5. Complaints
5.1 I have a complaint
If you have a complaint, we advise you to first make it known to us by sending an email to [email protected] If this does not lead to a solution, it is possible to submit your dispute for mediation through Stichting WebwinkelKeur.
From 15 February 2016 it is also possible for consumers in the EU to submit complaints via the ODR platform of the European Commission. This ODR platform can be found on http://ec.europa.eu/odr . If your complaint is not dealt with elsewhere, you are free to submit your complaint via the platform of the European Union.
6. Combined discount
6.1 What is the combined discount?
When a mermaid tail + monofin is placed in your shopping cart at the same time, you will receive a combined discount of € 8,- on the total price.