Login
If you already have an account with us, please login to continue.
Register
Welcome to Noordzeemeermin! Create an account to shop easily, claim promotions, go through the payment process faster, save multiple addresses, view your order history and much more.
Create an account
Lookbook - Discover your favorite tail!
Do you also have a nice photo or video? Then tag @ or # NoordZeemeemin on Social Media. We like that!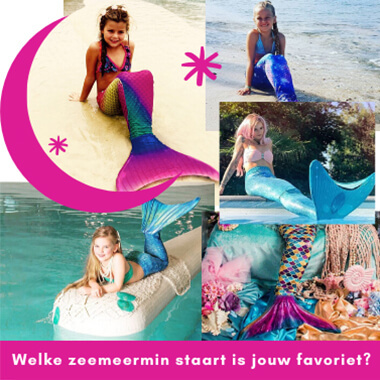 Our customers, youtubers and Instagrammers, regularly share nice photos of their mermaids tails. Curious which tail suits you? View our instagram lookbook! By clicking on a photo of your choice, you will immediately see the corresponding products.
Become a real mermaid!
Do you want to become a real mermaid just like these girls? View our full range of mermaid tails and don't forget to order a fin because you need this to be able to swim like a real mermaid. Do you already have a tail, but would you like some variation? Some lookbook tails are on sale, so you can buy a second tail for less!